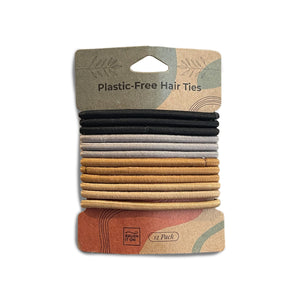 Tax included.
Shipping
calculated at checkout.
These plastic-free hair ties are built to last in your hair but not in a landfill. Strong and durable, yet soft enough not to pull your hair these ties will quickly become your everyday go-to.
They provide the perfect zero waste solution made with completely chemical-free materials. Made from natural rubber and organic cotton they're a plastic-free alternative to synthetic rubber and polyester hair ties. The coffee colour series is coloured with natural food-grade colourants.
You can wash them with cold water and lay them flat to dry. These plastic-free hair ties are biodegradable and will decompose slowly in a hot composting bin.
Diameter: 5cm
Thickness: 4mm 
Your purchase helps support conservation organisations that protect the world's oceans, forests and wildlife. Please choose the cause you want to support before proceeding to checkout.
Ocean Preservation
Our oceans need a helping hand! Did you know that plastic rubbish is looking to outweigh fish in our oceans by 2050? All Nemo purchases, in partnership with The Australian Marine Conservation Society, help distribute living plastic-free packs to raise awareness around plastic pollution. 
Forest Conservation
Not so fun fact – 4,500 acres of forests are cleared across the planet every hour. Did you know that? We've partnered with World Land Trust, so that our Tarzan products can support their mission to protect threatened habitats and wildlife that live in these forests. 
Animal Protection
Did you know that 150-200 species become extinct every 24 hours? The animals that we share this planet with are in serious danger. All of our Matilda products are supporting the work of WWF-Australia and Regenerate Australia – their vital recovery and regeneration program launched through four key projects following the 19/20 devastating bushfires, including Koalas Forever which is aimed at doubling the number of koalas on Australia's east coast by 2050.
All orders are processed within 1-3 business days. 
All orders are packed in recyclable and/or compostable packaging. We adhere to a strict plastic-free policy. We use Australia Post carbon-neutral parcel delivery to ship your orders.